New: Unlike Anything That Ever Floated: The Monitor and Virginia and the Battle Hampton Roads, March 8-9, 1862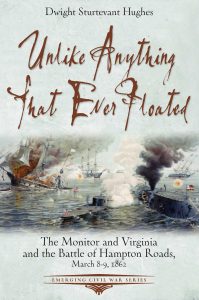 From Savas Beatie for the award winning Emerging Civil War series. 
A fantastic account of the epic March 9, 1862, Monitor vs. Virginia clash…written in much the way as a novel. (Civil War News)
Hughes's blow-by-blow account…can be considered among the finest short-form narrative treatments of those events. (Civil War Books and Authors)
5-Star Reviews:
Puts the first Ironclad confrontation under a microscope.
Brings this oft-told story alive with the skill of an experienced spinner of sea-yarns.
Copious first-hand accounts supported by 153 carefully selected images.
The whole gives substance and flair to an exciting tale of American ingenuity.
Captured in written word a documentary that compares most favorably to the video works of Ken Burns.
Brings the reader into the thick of the action.
An amazing amount of information.
Much more thorough than I expected from a popular history.
Not just a narrative of a battle but an extensive look at this era.
Deserves a place on the bookshelf of any student of naval, Civil War, or American history.