New: Unlike Anything That Ever Floated: The Monitor and Virginia and the Battle Hampton Roads, March 8-9, 1862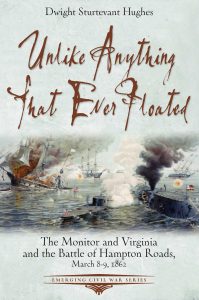 From Savas Beatie for the award winning Emerging Civil War series.
"Ironclad against ironclad, we maneuvered about the bay here and went at each other with mutual fierceness," reported Chief Engineer Alban Stimers following that momentous engagement between the USS Monitor and the CSS Virginia (ex USS Merrimack) in Hampton Roads, Sunday, March 9, 1862.
From flaming, bloody decks of sinking ships, to the dim confines of the first rotating armored turret, to the smoky depths of a Rebel gundeck—with shells screaming, clanging, booming, and splashing all around—to the office of a worried president with his cabinet peering down the Potomac for a Rebel monster, this dramatic story unfolds through the accounts of men who lived it.
Related blog posts: First Battle of Ironclads: Myths, Facts, What Ifs • The Emergency Ironclads • An Ancient and Fearsome Weapon: The Ram • Sink Before Surrender: The CSS Virginia Gets Underway • View from the Ramparts – Fortress Monroe, Virginia