Coming Spring 2021: Unlike Anything That Ever Floated: The Monitor and Virginia and the Battle Hampton Roads, March 8-9, 1862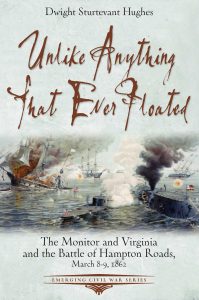 New from Savas Beatie for the award winning Emerging Civil War series.
"Ironclad against ironclad, we maneuvered about the bay here and went at each other with mutual fierceness," reported Chief Engineer Alban Stimers following that momentous engagement between the USS Monitor and the CSS Virginia (ex USS Merrimack) in Hampton Roads, Sunday, March 9, 1862.
From flaming, bloody decks of sinking ships, to the dim confines of the first rotating armored turret, to the smoky depths of a Rebel gundeck—with shells screaming, clanging, booming, and splashing all around—to the office of a worried president with his cabinet peering down the Potomac for a Rebel monster, this dramatic story unfolds through the accounts of men who lived it.
See related blog posts extracted from the book: • The Emergency Ironclads • An Ancient and Fearsome Weapon: The Ram • Sink Before Surrender: The CSS Virginia Gets Underway • View from the Ramparts – Fortress Monroe, Virginia
---
"Riverine Warfare"
Online Essential Civil War Curriculum of The Virginia Center for Civil War Studies at Virginia Tech.
"History offers few examples other than the American Civil War and the conflict in Vietnam, of extensive military operations on inland waterways requiring specialized classes of war vessels commanded and manned by naval personnel. The contest for the Mississippi River and its tributaries—the spine of America—was one of the longest and most challenging campaigns of the Civil War encompassing a 700-mile wet corridor from Mound City, Illinois, to the Gulf of Mexico."
The Executive Director termed the essay "excellent material on riverine warfare." The academic reviewer commented: "It's a very nicely written and well organized piece, and I especially liked the coverage of the challenges confronting the freshwater operations, as well as the early construction of gunboats."
Dwight is working on a new Emerging Civil War Series volume on this topic.
---
A Confederate Biography: The Cruise of the CSS Shenandoah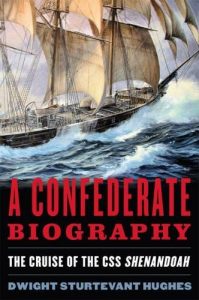 A gripping first-hand account of Shenandoah's voyage…a fascinating and engaging read, and highly recommended. (Warship 2018: Naval Books of the Year)
The greatest strength of this volume is in the storytelling…. reminiscent of the standard set by John Keegan. (Taylor & Francis Online Journal)
The Shenandoah's story has been presented in print several times before but never better than in this Naval Institute publication. (The Journal of America's Military Past)
Buy the book: