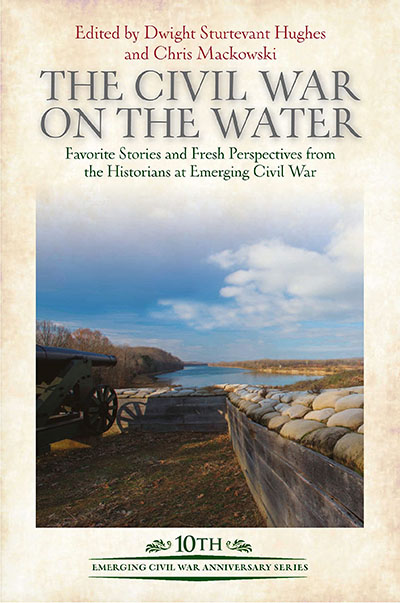 Favorite Stories and Fresh Perspectives from the Historians at Emerging Civil War
---
Dwight Hughes and Chris Mackowski editors and authors. From Savas Beatie for the Emerging Civil War Tenth Anniversary series.
---
Although primarily a land conflict, the Civil War also raged on the water. Nothing in the history and traditions of the U.S. Navy prepared it for civil war. The sea service expanded tenfold from a third-rate force to, at least temporarily, one of the most powerful and advanced navies in the world. Former shipmates now serving in the Confederacy, meanwhile, struggled to construct some semblance of a navy from practically nothing, applying innovative technologies and underdog strategies that would achieve more than anyone thought possible.
The resulting war on the water stretched from the Arctic Circle to the Caribbean in a stunning display of machine-age technologies that included ironclads, torpedoes, submarines, steam propulsion, and improved heavy artillery. Swift Rebel raiders like the CSS Shenandoah decimated Union commerce while hundreds of storm-tossed blockaders patrolled the meandering southern coastline from Hatteras to Galveston to interdict enemy commerce.
Titanic clashes erupted between seacoast fortifications and Mr. Lincoln's warships at Port Royal, New Orleans, Charleston, Wilmington, and Mobile. Massive amphibious operations on the Virginia Peninsula, in the North Carolina Sounds, and at Fort Fisher presaged 20th-century conflicts. Farther inland, the two services invented various riverine warfare tactics that played decisive roles at Memphis, Forts Henry and Donelson, Vicksburg, Island No. 10, and elsewhere.
The Civil War on the Water continues the celebration of Emerging Civil War's 10th anniversary with a compilation of favorite navy tales and obscure narratives by the group's distinguished public historians. This eclectic collection of more than three dozen essays offers fresh accounts on unfamiliar topics as well as second looks at familiar battles, ships, leaders, and events. There is something here for everyone, neophyte and veteran reader alike.
Praise
"ECW's The Civil War on the Water contains a treasure trove of naval and maritime Civil War stories and heroes. From the famous to the obscure, these stories should fascinate those interested in the Civil War who have never turned their attention toward the sea, as well as those who are familiar with the importance of the war at sea. In particular, this book should interest and inspire those serving in our Navy today to learn more about their forebears and the important service they rendered in saving the Union so long ago."
Mark T. Weber, former managing director, National Museum of the U.S. Navy and curator of the U.S. Navy Memorial
"Tall tales of the Civil War at sea echo throughout The Civil War on the Water. Leadership lessons abound in this collection of essays documenting how the navies strived to defend or capture river ports and major harbors. Yet, the North's industrial strength enabled the Union to employ revolutionary technology that would define naval warfare for the remainder of the 19th century. The use of steam power, screw propellers, shell guns, rifled ordnance, and submarines, and the return of the ram resulted in bloody and vicious battles determining America's future. The Civil War on the Water encompasses heroes, naval battles, leadership lessons, and innovative designs, providing the reader with thrilling stories that shaped our nation's future."
John V. Quarstein, director emeritus, USS Monitor Center, The Mariners' Museum & Park
"On rare occasions the best meals are served up in bite-size portions and so it is with The Civil War on the Water. The forty-five pieces included in this book, running from three to rarely more than ten pages in length, are not sea stories nor are they an articulated naval history of the Civil War. Instead, they are essays focused on myriad events that occurred on the water during the American Republic's hard-fought new birth of freedom. A host of familiar historians associated with this era—John Coski, Chris Kolakowski, John Quarstein to name a few—together with the book's doughty editor, Dwight Hughes, are among the many authors who have contributed a broad range of scholarship to produce this satisfying volume. Dip into The Civil War on the Water and savor their creative skills one slice at a time."
Stephen Chapin Kinnaman, naval historian and author of John Lenthall and Merrimack, the Biography of a Steam Frigate
Each of the more than 40 short papers…offers some valuable insights or interesting commentary on the war on the waters, the people, the ships, strategy, naval organization, or other matters related to the war on the waters…. An informative and often insightful read for anyone curious about the naval side of the war, The Civil War on the Water is also likely to be of value to the more serious student of the subject as well, throwing light on matters often overlooked.
http://www.strategypage.com/bookreviews/2497
---
---
Praise
"ECW's The Civil War on the Water contains a treasure trove of naval and maritime Civil War stories and heroes. From the famous to the obscure, these stories should fascinate those interested in the Civil War who have never turned their attention toward the sea, as well as those who are familiar with the importance of the war at sea. In particular, this book should interest and inspire those serving in our Navy today to learn more about their forebears and the important service they rendered in saving the Union so long ago."
— Mark T. Weber, former managing director, National Museum of the U.S. Navy and curator of the U.S. Navy Memorial
"Tall tales of the Civil War at sea echo throughout The Civil War on the Water. Leadership lessons abound in this collection of essays documenting how the navies strived to defend or capture river ports and major harbors. Yet, the North's industrial strength enabled the Union to employ revolutionary technology that would define naval warfare for the remainder of the 19th century. The use of steam power, screw propellers, shell guns, rifled ordnance, and submarines, and the return of the ram resulted in bloody and vicious battles determining America's future. The Civil War on the Water encompasses heroes, naval battles, leadership lessons, and innovative designs, providing the reader with thrilling stories that shaped our nation's future.
— John V. Quarstein, director emeritus, USS Monitor Center, The Mariners' Museum & Park